First expert translator in France
In need of a legal translation which is correct, rigorous, precise, reliable and rapidly executed?
Read more
Free quote online!
Legal &
Financial
Translations
Our international network of translators allows us to juggle with the time difference, in order to gain precious hours to deliver your documents in record time.
All of our legal translations are proof-read by a team of technical proof-readers employed by us, and your document is scrupulously checked before being delivered to you.
A good translation must respect the exactitude of all legal terms, but at the same time must also read like a text composed directly in the language translated into.
Our work methods are applied to all of our translation work. From the smallest text to the most voluminous of dossiers, we are always equally concerned about quality.
Our specialists offer you
a Free Quote
Here are some reference companies with whom we collaborate, and have been doing so for a number of years:
DARROIS VILLEY MAILLOT BROCHIER
BAKER & McKENZIE
RAFFIN & ASSOCIES
CMS BUREAU FRANCIS LEFEBVRE
FRESHFIELDS BRUCKHAUS DERINGER
HAARMANN HEMMELRATH
HOLMAN FENWICK & WILLAN
LEBOEUF, LAMB, GREENE & MAC RAE
LOVELLS
LOYENS LOEFF
SCP DUBARRY -LE DOUARIN & VEIL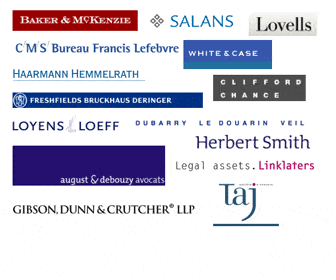 DUBARRY LE DOUARIN VEIL
WHITE & CASE LLP
CLIFFORD CHANCE
AUGUST & DEBOUZY
HERBERT SMITH
GIBSON DUNN & CRUTCHER LLP
TAJ
WATSON FARLEY & WILLIAMS LLP
WEIL & ASSOCIES
LINKLATERS & ALLIANCE
MCLOUGHLIN & AVOCATS